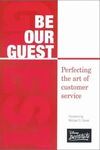 Amazon : Whether they are called clients, customers, constituents, or, in Disney-speak, guests, all organizations must best serve the people who purchase their products and services or risk losing them. Now, for the first time, one critical element of the methods behind the magic that is the Walt Disney World Resort-quality service-is revealed in Be Our Guest. Even before Tom Peters and Bob Waterman profiled Walt Disney World Resort in their groundbreaking book In Search of Excellence, the most popular resort destination in the world enjoyed a reputation as a company that sets the benchmark for best business practices. Be Our Guest outlines proven Disney principles and processes for helping your organization focus its vision and align its people and infrastructure into a cohesive strategy that delivers on the promise of exceptional customer service.
Ce bouquin a été l'un de mes premiers coups de coeur et a changé ma façon de voir les choses à propos de toutes les entreprises, administrations ou établissements qui peuvent dispenser un ou plusieurs services : hôpitaux, gares, aéroports... et même pourquoi pas centre-ville! Dès l'instant qu'il y a un service à délivrer, et surtout quand il y a un business derrière (voyez par là, de la concurrence). Ce bouquin donne quelques clés du succès de Walt Disney World (en en faisant sa pub au passage, bien entendu). Il explique les principes d'une expérience, et comment agir sur la perception des "guests", les usagers, ou clients en jargon Disney. Il donne aussi de nombreux exemples de firmes américaines venues apprendre à la Disney University pour mettre en place un processus de qualité de service dans leurs propres organisations.

Ce bouquin a été la base de mes études et de mon Mémoire, car il explique très concrètement que la qualité de service est un processus tangible avec quelques règles très simples, et que notre environnement peut délivrer une qualité de service. C'est pour ça que je suis devenu urbaniste, car c'est quelque chose à quoi je croyais dur comme fer!
Pour tous ceux qui se demandent comment changer les choses, comment améliorer le système, comment permettre aux usagers de jouir d'une qualité de service optimale. J'ai adoré, et c'est toujours pour moi une référence!


Sommaire :
Chapter 1: Service, Disney Style
Practical Magic
Magic in your organization
Defining practical magic
Introducing the Quality Service Cycle

Chapter 2 : The magic of Service

Guestology revealed
Knowing and understanding Guests
The power of a service theme
Defining the Service theme promise
Delivering on the promise

Chapter 3 : The magic of the cast

Casting the first impression
Outfitting the cast for service delivery
The behaviors of Quality Service
Think globally, perform locally
Building your performance culture

Chapter 4 : The magic of Setting

Setting delivers service
Imagination + Engineering = Imagineering
Sending a message with setting
Guiding the guest experience
Appealing to all five senses
Onstage and Backstage
Maintaining the setting

Chapter 5 : The magic of Process

Process and combustion
Guest flow
Cast-to-guest communication
Service attention
Service process debugging

Chapter 6 : The magic of Integration

Putting quality service together
The integration Matrix
Integrating service at Disney Vacation Club
Three elements of magical service moments
One final tool : The Storyboard